Paper Machine Spare Parts Dryer Cylinder
---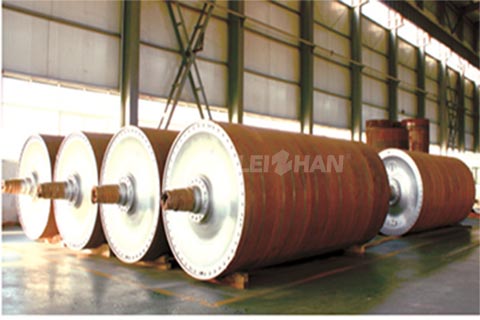 The paper machine has dozens of drying cylinders arranged horizontally, which are used to continuously dry the paper blanks after forming the pulp. The outer diameter of the dryer drum is mainly 1000~3000mm, Leizan can specify the type of dryer drum according to customer's needs.
Paper machine drying cylinder
1. The material of dryer is mainly HT200, HT250. Manufacturing quality requirements do not allow penetration and excessive blistering.
2. Place the rotatable shaft on either side of the head and once the steam used for drying the paper is put into the hole in the hollow shaft.
3. There is a scoop to draw water to send condensate to the other side of the hollow shaft and discharge.
4. Drying cylinders are generally cast iron and polished on the outside. Depending on the properties of the different graphite sheets of cast iron, the blanks can be easily separated from the cylinder surface, so the paper cannot get stuck when burning.
Leizhan company offers a full set of pulping machines, paper machines and spare parts. Our dryer cylinders are used in many paper mills. If you are interested, please contact us. Email: paperrecyclemachine@gmail.com