Corrugated Paper Machine
---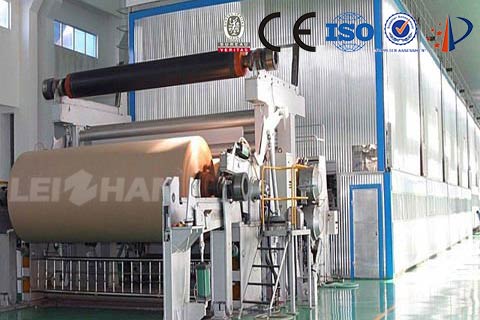 Leizhan supplies flutting paper machine, the trimmed width of which is from 1575-5800mm. Net paper width of the High strength corrugated base paper Machine is 4200mm, which is mainly used to make high strength corrugated base paper. Corrugated paper machine consists of these following parts: headbox, fourdrinier wire section, press part, drying part, sizing machine, and reeling section. Each part of the paper machine is as follows.
Headbox
Air cushioned headbox. By controlling the gas pressure in the headbox, control and stabilize the pulp feed of the pulp fed.
Wire Part
Single long wire. Main parts: chest roller, forming plate, dehydration plate, vacuum box, vacuum couch, driving roller, carrier roll and rack, etc., equipped with a forming wire.
Drying Part
Φ1800 Dryer cylinder, grouping transmission. Each group is equipped with dry mesh , carrier roll and semi-closed air hood.
Slope Size Press
The Sizing Machine is equipped with a chrome-faced metal roller, a metal roller wrapped with glue. The prelum way of the sizing machine is ripple pneumatic tyre prelum.
Reeling Part
Pneumatic horizontal Reeling Machine.
Main Specification
| | |
| --- | --- |
| Paper Grade | High-strength Corrugated Paper |
| Trimmed Width(mm) | 1575-5800 |
| Basis Weight(g/m2) | 60-150 |
| Operating Speed(m/min) | 100-800 |
| Production Capacity(t/d) | 15-500 |