ZSF Series Hydrapurger
---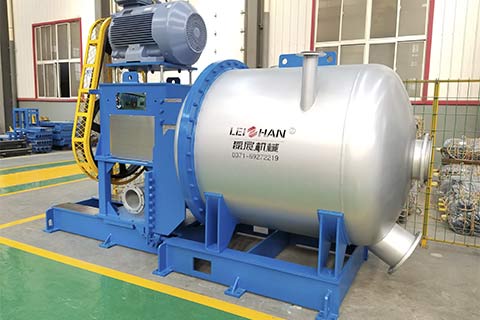 ZSF Series Hydrapurger is applied to remove impurities and little weighty impurities in pulverizing machine in the pulp-making process.
Application& Feature
Compact structure, high efficiency and can be greatly simplified the process of waste paper, and let the equipment continuous operation, reducing power consumption at the same time.
Slurry get into the tank from the pulp inlet, and rotating with high-speed by the work of impeller so that the impeller broken the slurry secondary.
The slurry after broken get into the next process by the sieve behind the impeller, while go through the pulp outlet and pulp pump.
Part of the slurry containing light impurities get into the cylinder screener through light impurities outlet pipe, and into the process of separate slurry and the light impurities.
The heavy impurities outlet pipe in the bottom of tank will eliminate weight impurities regular.
This series of pulp screening equipment and pulper including cylinder screen can be controlled by PLC in the production process, to enable them to continuous automatic operation.
Main Specification
Type
ZSF1
ZSF2
ZSF3
Normal Volume (m3)
1.2
3
5
Concentration (%)
4-5
Product Capacity (t/d)
35-45
60-80
100-140
Motor Power (Kw)
45
75
132
Capacities vary depending on feed size, feed rate, operating conditions, desired product output, characteristics of feed material, and equipment configuration
Download complete technical literature [PDF]