Ragger For Removing Twisting Impurities
---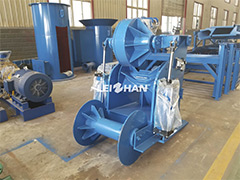 Ragger is a kind of rope twisting machine, mainly used in paper making industry to remove the twined materials in the waste pulp, such as iron wire, rope, plastic and cotton yarn and so on, which is one of necessary equipments of light concentration continuously smash system. Ragger has the advantages of low energy consumption, ang the great effect of removing impurities.
The Benefit Of Ragger
1. Twisted rope speed flexible adjustment
2. ISO Certification Production
3. Supporting the use of pulper, twining effectively remove debris
Over 40 years manufacture and sale experience, Leizhan is specialized in complete set of screening, slag removal,pulping and refining equipment. Welcome email us for any need. Email: wastepapermachine@gmail.com.