Large Production Capacity Coating Board Paper Machine
---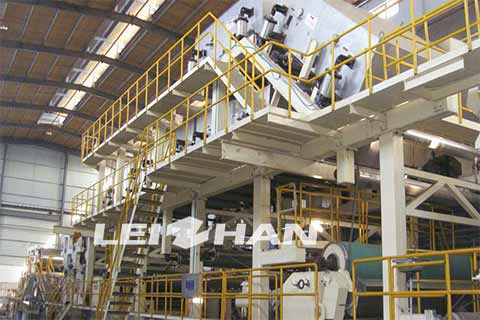 Coating board paper machine use waste paper,virgin pulp as material to make high quality Coating board paper, finished product can be made coating board paper roll. Our coating paper making machine has the advantages of large production capacity, low energy consumption, small area occupied, easy to operation and maintenance,etc.
Structure Of Coating Board Paper Machine
1. Headbox(D-Holy Rolls Open type, D-Holy Rolls Air-cushion type, Hydraulic type)
2. Inverter form Wire Section(4 lays, 5lays)
3. Press Section(Vacuum Press, Jumbo Press, Gloss Press)
4. Dryer Section(Diameter 1.5m, 1.8m group Cylinder)
5. Hood(Open Hood, Closed Hood)
6. Sizing Press
7. Calender(Soft Nip, Hard Nip)
8. Coater(Front Coating, Back Coating)
9. Pope Reel
10. AC Inverter Sectional
Coating Board Paper Machine Technical Data
Raw Material: waste paper
Output Paper: high quality coating board paper
Trimmed Width: 2400-6600mm
Basis Weight: 200-350g/m2
Operating Speed: 200-600m/min
Production Capacity: 200-1400TPD
Besides coating paper machine, we also can offer other kinds of paper machine, such as kraft paper machine, corrugated paper machine, tissue paper machine, A4 paper machine, Writing and printing paper machine,etc. Please free email us for any need. Email Address: wastepapermachine@gmail.com.