High Quality Corrugated Paper Machine Manufacture Production Line
---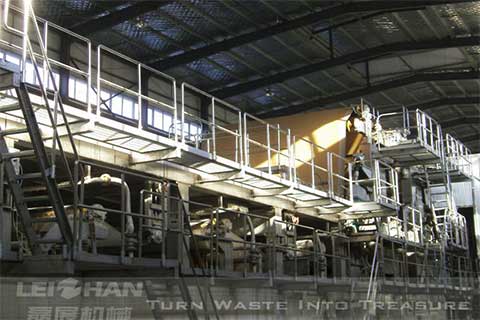 Corrugated paper Production Line As a professional machine for producing corrugated paper according to paper corrugated board and box making machine which can be used for corrugated sheet production, we can make many kinds of corrugated shipping boxes, corrugated boxes with lids. White corrugated box,etc.
Corrugated Paper Machine Technical Data
Raw material: Virgin pulp, recycled paper, de-inked pulp.
Output paper: corrugated paper, fluting paper
Trimmed width: 1575-5800mm
Basis weight: 60-150g/m2
Operating speed: 100-800m/min
Production capacity: 15-500TPD
Corrugated Paper Production Processing
Raw materials (waste paper)——pulper——vibrating sieve——pulp tank——pulp pump——bleach machine(thruster)——refinermachine——pulp tank——pulp pump——pressure sieve——pulp tank—— pulp pump——except sand machine——net box——cylinder——blanket——paper making machine——drying——roll paper——the big finished jumbo paper —— process machine
Leizhan is a professional manufacturer of paper making machine and paper pulping equipment, which specialized in complete set of screening, slag removal, pulping and refining equipment. Welcome contact us for consulting our products. Email address: wastepapermachine@gmail.com.