5800mm Kraft/Testliner Paper Machine
---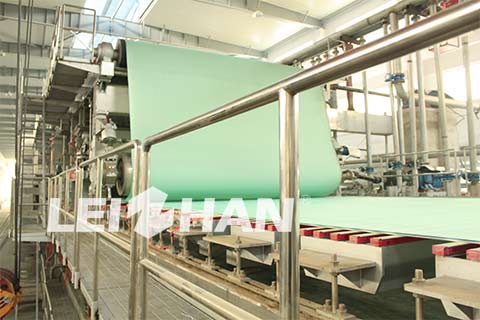 Kraft paper is tough and water-resistant packaging paper with high tensile strength, often used to make paper bags, envelopes, workbooks, etc, which can withstand large tensile forces and pressure without breaking. Kraft/Testliner Paper Machine mainly used for producing kraft/testliner paper. The Kraft/Testliner Paper produced by our Kraft/Testliner Paper Machine has the advantages of tough and water resistant, flexible and strong, and has a high degree of burst resistance. Moreover Kraft/Testliner Paper Machine has the advantages of large production capacity, low energy consumption and less occupied area.
5800mm Kraft/Testliner Paper Machine Ingformation
Raw Material: Wood Pulp, OCC, Waste Paper
Output Paper: Kraft Paper, Testliner Paper
Basis Weight: 220g/m2
Operating Speed: 800m/min
Production Capacity: 750t/d
Apart from Kraft/Testliner Paper Machine, as well we can supply tissue paper, corrugated paper, A4 paper machine. If you have any need, please free email me: wastepapermachine@gmail.com.