Paper Machine Boiler
---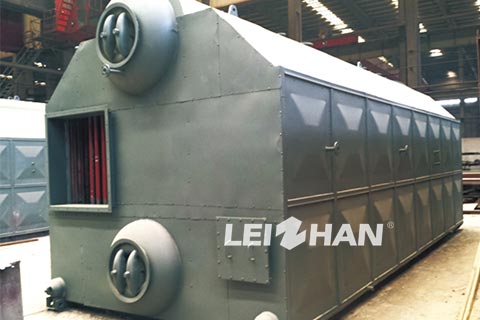 Structure
The boiler is mainly made up of upper, lower drum, convection, water wall tube, lower pipe and high efficiency coal-fired boiler. It has high overload capacity and strong adaptability. Equipped with continuous automatic water supply equipment to ensure safe operation of boiler and energy saving when boiler sewages.
Features
The boiler in paper industry adopts novel compact structure.
The combustion of the furnace is reasonable and the combustion chamber is composed by the combustion chamber and the reburning chamber.
We design many multi-channel smoke baffle in the convection warehouse, which makes the flue gas return several times and is beneficial to dust removal.
The boiler system uses multi layer removable refractory bricks to form arches.
The boiler for paper making adopts high quality raw materials.
With advanced boiler processing and testing equipment.
Advantage
The length of the furnace top and the rear axle is longer than that of the domestic similar products, thus prolonging the fuel burning time, fully burning coal, and reducing the carbon content of the slag.
Main Specification
| | |
| --- | --- |
| Certification | ISO, BV |
| Structure | Fire Tube |
| Pressure | High Pressure |
| Style | Horizontal |
| Fuel | Coal-fired |
| Model Number | paper making boiler |
| Output | Steam |
| Application | Supply hot steam for dryer cylinder |
| Thermal efficiency | 76-82% |
| Capacity | 4-30 Steam tons |