3600mm Toilet Paper Making Machine
---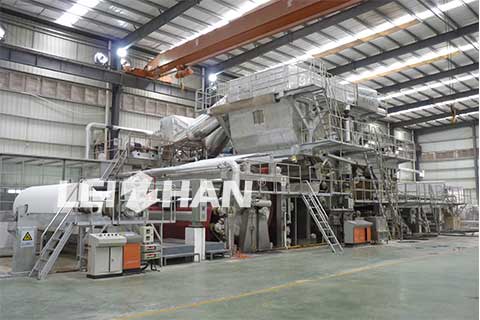 Toilet paper belongs to necessary paper,mainly used for daily hygiene. The demand for toilet paper is soaring, and the market demand for paper machines also increasing. As one of professional toilet paper machine suppliers, can manufacture all kinds of toilet machines. Our toilet paper machine has advantages of advanced technology, high production capacity, competitive price and long service life time, etc.
3600mm Toilet Paper Making Machine Technical Data
Raw Material: Virgin pulp, waste white paper
Output paper: toilet paper, tissue paper, napkin paper
Basis Weight: 40g/m2
Operating Speed: 800m/min
Production Capacity: 50t/d
Main Part Of 3600mm Toilet Paper Making Machine
1. Headbox: Hydraulic headbox
2. Wire part: single fourdrinier
3. Press part: divided into main press and carrier roller press.
4. Drying part: Φ3000/Φ3600 dryer cylinder, single transmission
5. Reeling part: Pneumatic horizontal type winding machine, air cylinder pressure.
We can offer different type toilet paper making machine depend on your raw material and production capacity. Welcome free email us for consulting further details about Toilet Paper Making Machine.
Email: wastepapermachine@gmail.com.