Impurity Cleaning Equipment Vibrating Screen
---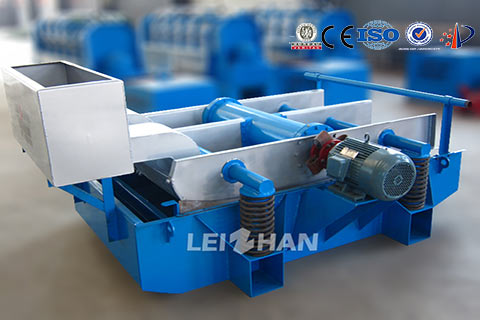 Impurity cleaning equipment vibrating screen is used for removing various impurities of the pulp suspension, mainly used for the screening of coarse pulp in the pulp. The machine has reasonable design, strong screening ability, self-cleaning effect, high work efficiency, energy saving, low noise and convenient maintenance. It is a domestic advanced screening equipment.
Features Of Impurity Cleaning Equipment Vibrating Screen
1. Device equipped with feeding diluted steady slurry box; Inlet pulp concentration flow is stable.
2. Sieve plate bottom has gas sealing design, with self-cleaning function.
3. Eccentric rotor under excitation device, safe and durable
4. Screen are equipped with water spray device, which is beneficial to fiber recycling.
5. Low power consumption, simple operation, easy maintenance
Main Speciafication Of Impurity Cleaning Equipment Vibrating Screen
Screen Area(m2): 1-3
Product Capacity of Hole screen (t/d): 7.5-75
Product Capacity of Slot Screen (t/d): 3.5-25
Input Pulp Concentration of Hole screen (%): 1.0-1.5
Input Pulp Concentration of Slot Screen (%): 0.5-0.8
Motor power (Kw): 2.2-4
Email: paperrecyclemachine@gmail.com
Leizhan is a professional manufacturer of pulping & paper making equipments. If you are interested in any of our products, please feel free to contact us for further details.