3800mm Five-Fold Net Coated White Board Paper Machine
---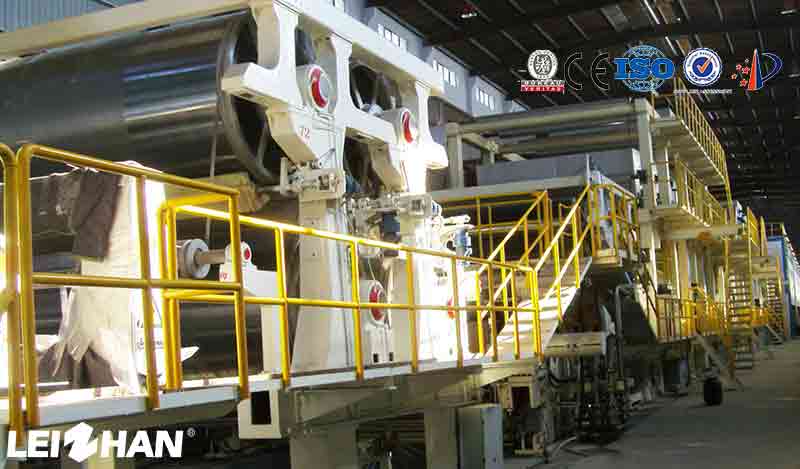 3800mm Five-fold net coated white board paper machine used waste paper to make fine pulp for five-fold net coated paper white caedboard paper,and need another pulp—top layer pulp which raw materials is white shavings.
Structure Of 3800mm Five-Fold Net Coated White Board Paper Machine
1 Headbox
Headbox can effectively prevent fiber flocculation and to make the flow more stable and uniform, and can accurately control pulp flow.
2 Fold Net
The a five-fold net consists of the surface net, the lining net, the core net, the bottom liner net and the bottom net.
3 Press Section
As the cardboard paper sheet enters the press section it is still quite wet. Considerable amounts of water may be removed by the pressing and suction extered by the press part.
4 Size Part
The permeability of paper to liquids is very important property.
5 Dryer Part
The sheet, as it passes from the press section, should be as dry as possible so that it can be made mechanically. From this point it is necessary to apply heat in order to reach the desired state of dryness. The most usual method of drying uses steam-heated dryers.
6 Calendering
As the sheet undergoes the drying process there is a tendency for the fibers to lift slightly, it is passed through a stack of heavy metal rolls where it is calendered under high pressure. The purpose of calender stack is to compress the sheet and give it a fine smooth finish.
Basic Parameter Of 3800mm Five-Fold Net Coated White Board Paper Machine
Trimmed Width(mm):3800
Operating Speed(m/min): 400
Production Capacity(t/d): 650
Email:paperrecyclemachine@gmail.com
More detail welcome to consult us.