Headbox For Paper Mill
---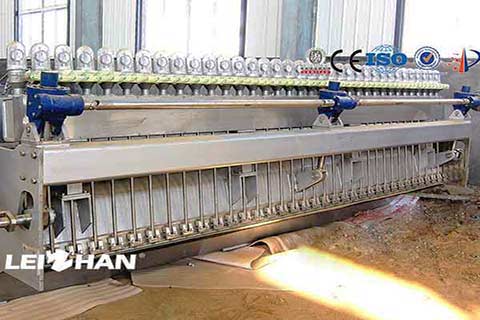 Headbox for paper mill is to form a jet of water and pulp fibers between the forming wire. As the joint of the paper machine flow and forming, headbox is to provide a good precondition for the sheet forming, to uniformly distribute the paper stock along the width direction of the paper machine to ensure uniform pressure distribution and uniform speed, uniform flow, uniform concentration and controllability and uniformity of fiber orientation.
Headbox can effectively disperse pulp fibers to prevent fiber flocculation, and provide and maintain a stable sizing head and pulp web speed ratio according to process requirements.
Advantages Of Headbox For Paper Mill
No flacks in the paper (good sheet formation)
Uniform basis weight profile
Good run ability
Stable jet geometry
Email: wastepapermachine@gmail.com
Leizhan is a professional manufacturer of pulping & paper making equipments. If you are interested in any of our products, please feel free to contact us for further details.