Self-Washing Vibrating Screen In Waste Paper Recycling System
---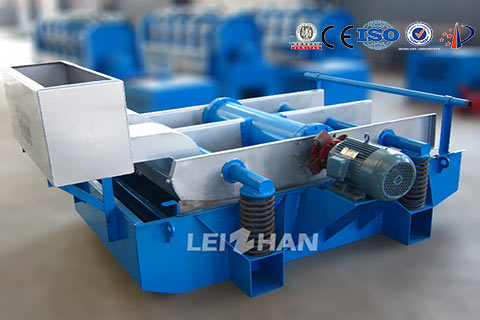 Self-washing vibrating screen in waste paper recycling system is developed with reference to foreign equipment. Vibrating screen has reasonable design, strong screening ability, self-cleaning effect, high work efficiency, energy saving, low noise and convenient maintenance. It is mainly used for the treatment of tailings, with large screening area, low power consumption and clean screening residue.
Features Of Vibrating Screen In Waste Paper Recycling System
1. Vibrating screen is equipped with a feed dilution tank, and the slurry concentration flow is stable.
2. The lower part of the sieve plate is designed with a gas sealing box and has a self-cleaning function.
3. The eccentric rotor is built in the excitation device, which is safe and durable.
4. The water spray device is arranged in the sieve area to facilitate fiber recovery.
5. Low power consumption, simple operation and convenient maintenance.
Working Principle Of Vibrating Screen In Waste Paper Recycling System
When the cleaner working, the stock runs to the bottom of gas seal room by stock level controlling device, and the screen body is vibrated under the affect of vibration producer, then the pressure pulse is formed. This cleaning method by pressure pulse can not only makes the screen plate more cleanly but decreases the load on the screen plate.
Email: wastepapermachine@gmail.com
Leizhan is a professional manufacturer of pulping & paper making equipments. If you are interested in any of our products, please feel free to contact us for further details.