Low Cost Corrugated Cardboard Paper Machine
---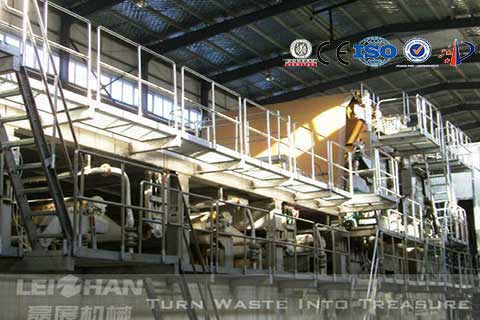 Low cost corrugated cardboard paper machine is mainly used for the manufacture of shipping containers and corrugated cardboard. It always use waster paper as raw material to recycle use.
Corrugated Cardboard Stock Preparation Equipment List
Raw material: LOCC
Chain Conveyor
Waste Paper Bale Breaker
Drum Pulper
High Density Cleaner
Mid Consistency Coarse Screen
Light Impurity Separator
Reject separator
Mid Density Cleaner
Fractionator
White Water Pool
Others
Technical Data Of Low Cost Corrugated Cardboard Paper Machine
Trimmed Width: 3600mmm
Basic Weight: 90-220g/m2
Working Speed: 250m/min
Design Speed: 280m/min
Email: wastepapermachine@gmail.com
Leizhan is a professional manufacturer of pulping & paper making equipments. If you are interested in any of our products, please feel free to contact us for further details.