Kraft Tube Paper Machine With High Speed
---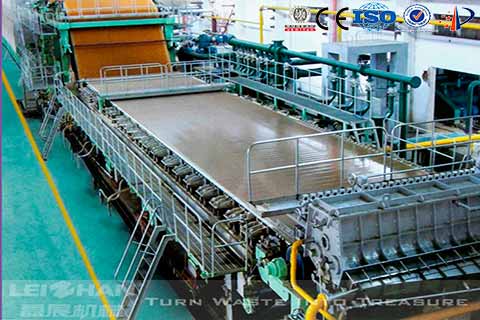 Kraft Tube Paper
Kraft tube paper is an industrial paper specially used for the textile industry, and is a thin steel paper. This paper is tough and durable. The surface of paper is smooth. It can resist edge compression and bearing lathe work when used.
Kraft tube paper mainly used in the manufacture of cores and pipes, industrial pipes, film pipes, fireworks pipes, textile pipes, parallel pipes, various paper corners, cardboard boxes, honeycomb paperboard, etc.
Basis Weight: 65-145 g/m 2 .
thickness: 0.1-0.2 mm.
Kraft Tube Paper Machine
Kraft tube paper machine with high speed mainly used for making kraft tube paper board. The machine is mainly divided into the following parts: a round net section, a back press section, a press section, a drying section, and a coiling section.
Technical Parameters Of Kraft Tube Paper Machine With High Speed
Trimmed Width(mm): 1575-4800
Basis Weight(g/m 2): 350-1000
Operating Speed(m/min): 80-200
Production Capacity(TPD): 50-500
Email: wastepapermachine@gmail.com
Leizhan is a professional manufacturer of pulping & paper making equipments. If you are interested in any of our products, please feel free to contact us for further details.