High Speed Single Face Corrugated Paper Making Machine Line
---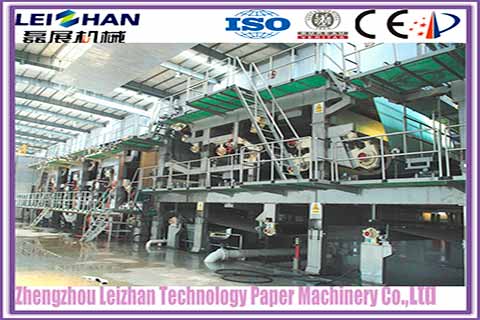 Single face corrugated paper can be used for producing cardboard, packaging paper. High speed single face corrugated paper making machine line contains pulp production line and corrugated paper making machine.
High Speed Single Face Corrugated Paper Making Machine Line
Firstly, using chain conveyor to transport waste paper to pulper equipment for pulping.
Then, D Type Pulper system can effectively pulping waste paper into pulp and screening out impurities in paper pulp.
After pulping, High density cleaner will be used for removing heavy impurities in paper pulp.
Afterwards, pulp screening system equipment like coarse pressure screen, reject separator, fine screen will be used for coarse and fine screening of paper pulp.
After screening, Double Disc Refiner will be used for cutting long fiber into short fiber and improving pulp quality.
Technical Parameter Of High Speed Single Face Corrugated Paper Making Machine Line
Paper Grade: Corrugated Paper, Fluting Paper, etc
Trimmed Width: 2400mm-6600mm
Basis Weight: 70-150gsm
Design Basis weight: 100gsm
Design Speed: 250m/min-1000m/min
Working Speed: 200m/min-800m/min
Production: 100-800tpd
Email: wastepapermachine@gmail.com
Leizhan is a professional manufacturer of pulping & paper making equipments. If you are interested in any of our products, please feel free to contact us for further details.