Gray Pressed Cardboard Manufacturing Machine
---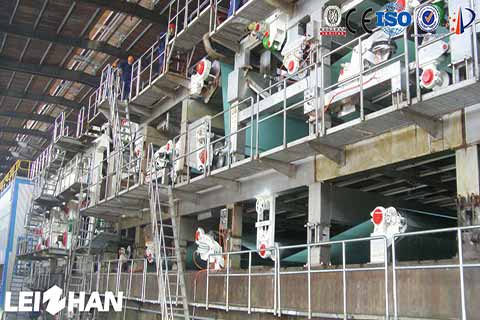 Gray pressed cardboard is mainly used for the book cover, packaging box, storage box and etc. Leizhan is a manufacturer and supplier of whole set gray pressed cardboard manufacturing machines and offers solutions to meet the specialty demands of paper plants.
Gray Pressed Cardboard Manufacturing Line
Waste paper→D Type Hydrapulper→Pulp Pump→High Density Cleaner→Double Disc Refiner→Pulp Screen→Pulp Chest→first stage Coarse Screen→Reject Separator→Mid Density Cleaner→Mid Consistency Fine Screen→Double Disc Refiner→Inflow Pressure Screen
Technical Parameter Of Gray Board Paper Machine
Trimmed Width: 2400-6600mm
Basic Weight: 200-350 GSM
Working Speed: 200-600m/min
Production Capacity: 200-1400
Email: wastepapermachine@gmail.com
Leizhan is a professional manufacturer of pulping & paper making equipments. If you are interested in any of our products, please feel free to contact us for further details.