Fluting Paper Making Machine
---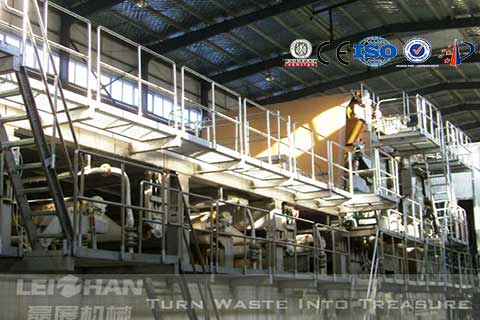 Fluting paper making machine is mainly used for making high strength corrugated paper. This machine is divided into the following parts: headbox, wire section, press section, front drying section, surface sizer, post drying section, and roll section.
Technical Data Of Fluting Paper Making Machine
Trimmed Width: 3600mm
Basic Weight: 90-220g/m²
Design Speed: 280m/min
Working Speed: 250m/min
Crawling Speed: 25m/min
Pulp ratio: 100%LOCC
Feeding pulp concentration: 0.8~0.95%
We design the plant according to customer's requirement hence it produces desire thickness & final quality. Customer can use Old Corrugated Cartons (OCC) as a main raw material as well as other Waste or Virgin Pulp Sheets also which can be decided based on final quality they intend to produce.
Email: wastepapermachine@gmail.com
Leizhan is a professional manufacturer of pulping & paper making equipments. If you are interested in any of our products, please feel free to contact us for further details.