Cylinder Mould Type Tube Paper Machine
---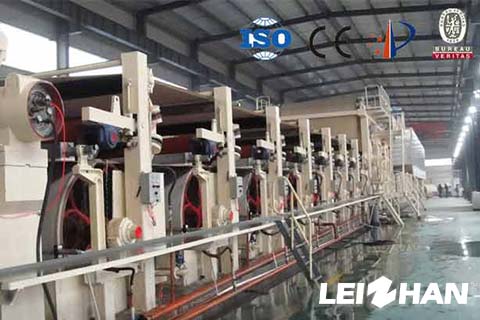 Cylinder mould type tube paper machine is mainly used for yarn tube paper making. It is divided into the following parts: cylinder mould part,return back press size part, press part, drying part, reeling part.
The forming process of cylinder mould type tube paper machine is complex. And the forming process basically decide the ration and evenness of paper. So, the net structure and technical condition are the important factors that can affect the machine's productivity and paper quality.
Characteristics Of Cylinder Mould Type Tube Paper Machine
1. Technologically advanced, high quality, competitive price.
2. Convenient and smooth operation, high operation efficiency, long service life time.
3. Good dewatering effect, high evenness degree.
4. Various output capacity and configuration of cylinder mould paper making machines can be customized based on different needs of customers.
Technical Parameter Of Cylinder Mould Type Tube Paper Machine
Raw Material: waste box
Trimmed Width: 1575-4800mm
Designing Speed: 200m/min
Working Speed: 70-150m/min
Production Capacity: 50-500t/d
Email: wastepapermachine@gmail.com
Leizhan is a professional manufacturer of pulping & paper making equipments. If you are interested in any of our products, please feel free to contact us for further details.