4500mm Underfeed Rewinder Machine For Paper Mill
---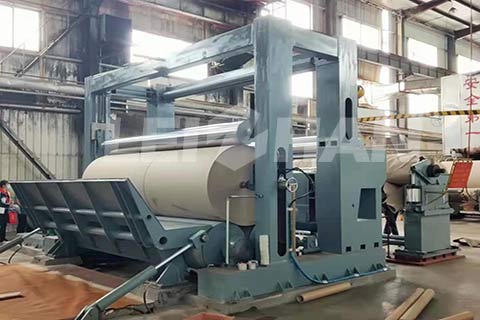 The 4500mm underfeed rewinder machine is suitable for the production of corrugated paper and the working speed of this machine is 1100m/min. During the rewinding process, this underfeed rewinder machine can also remove paper with poor quality and bond broken ends.
Advantages of 4500mm Underfeed Rewinder Machine
1.The transmission device of the underfeed rewinder machine adopts double motor transmission, and the speed of the front and rear support rollers can be adjusted separately according to the requirements of the rewinding process, so that the paper roll is evenly tightened.
2.PLC execution ensures that the tension of the paper web is constant during the whole running process of acceleration, constant speed and deceleration.
3.The upper curved roll is used to stretch the paper, prevent and overcome their wrinkles.
If you want to set up a paper production line, Leizhan can provide you with high-quality paper making machines that satisfy you. Welcome to contact us. Email address: paperrecyclemachine@gmail.com