4200mm High Strength Corrugated Paper Making Machine
---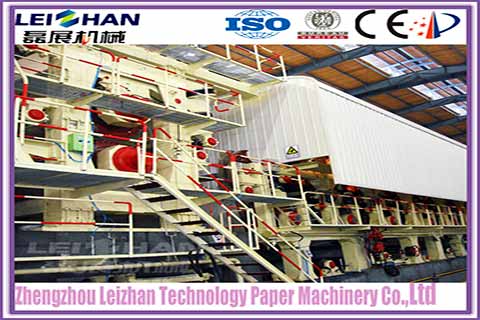 High Strength Corrugated Paper began in the late 18th century. In the early 19th century, because of its lightweight and cheap, wide range of uses, easy to make, and can recycle and reuse, which make its application have significant growth. To the beginning of the 20th century, has gained for the production of a variety of goods packaging and comprehensive popularized and applied. Therefore, in the competition with a variety
of packaging materials, corrugated paper was a great success,and became one of the main materials of the production of packaging containers.
Pulping Line Of 4200mm High Strength Corrugated Paper Making Machine
Pulping line of 4200mm High Strength Corrugated Paper including:pulping, cleaning, screening and refining. It needs different equipmennts in each stage.
Pulping Machine: Drum Pulper, D Type Hydrapulper, H.C. Hydrapulper
Cleaning Machine: High Density Cleaner, Low Density Cleaner
Screening Machine: M.C. Pressure Screen, Inflow pressure screen
Refining Machine: Double Disc Refiner, Conical Refiner
Email: wastepapermachine@gmail.com
Leizhan is a professional manufacturer of pulping & paper making equipments. If you are interested in any of our products, please feel free to contact us for further details.