Egg Tray Making Production Line
---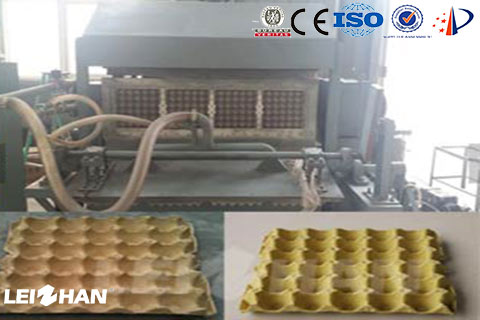 Egg tray making machine design uses waste paper as a raw material, the use of pulp compression molding method, the application of the envelope structure.
Egg tray making machine with a high Strength, toughness, easy to break, can play a good protective effect, easy processing of paper structure, low transport costs, easy to use.
Pulp System For Egg Tray Making Production Line
Pulping: H.C. Hydrapulper, D Type Hydrapulper
Cleaning: High Density Cleaner, Low Density Cleaner
Screening: M.C. Pressure Screen, Inflow Pressure Screen, Vibrating Screen, etc.
Other Equipment
Technical Data Egg Tray Making Machine

Raw Material: Waste Paper
Output: 1000pcs/h
Power: 28kw
Egg tray making production line divided into three sets of mechanical processing
1. Pulp system
2. Molding system
3. Drying system
Email: paperrecyclemachine@gmail.com
Leizhan is a professional manufacturer of pulping & paper making equipments. If you are interested in any of our products, please feel free to contact us for further details.