Russian Equipment Delivery Site
---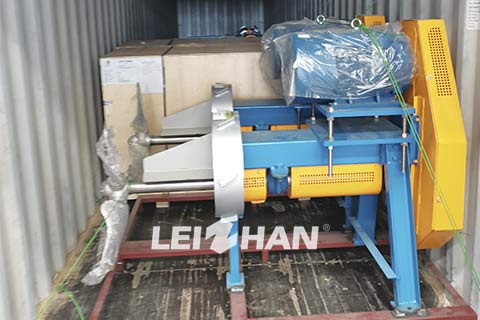 In the case of the global epidemic in 2020, the old Russian customers signed a contract for new equipment due to increased production capacity, and delivered the goods on time within the contract period.   The main equipment ordered are: chain conveyor, agitator, pulp pump.
Delivery Equipment Application 
Chain conveyor: Mainly used for conveying various kinds of pulp board, waste paper in bulk and in bundle which can be horizontal conveyor or inclined conveyor.
Agitator: Mainly used to stir pulp cyclically in chest to maintain the pulp liquid in suspending condition, which ensure the pulp component even distribution.
Pulp pump: Mainly used for transporting liquid or solid material in paper making.
I hope that these equipment will bring benefits to customers after the early installation! Thank you again for your support to Leizhan! Email: wastepapermachine@gmail.com