Napkin Tissue Paper Making Machine
---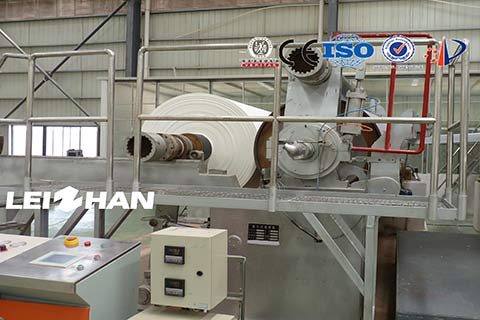 Napkin tissue paper machine can use waste paper(such as waste books, news paper, used office paper, waste paper edge from printing factory ), virgin pulp as material to make high quality napkin tissue paper, finished product can be small tissue roll, napkin tissue, facial tissue, kitchen towel.
Technical Parameters Of Napkin Tissue Paper Making Machine
Output paper: Good Quality Napkin Toilet Paper
Net Paper Width: 1902mm
Production Capacity: 1-3T/D
Work Speed: 80-120m/min
The paper grams: 13—30g/㎡
Wire Width: 1450mm
Napkin Tissue Paper Making Line
Napkin tissue paper making line is include single cylinder,single dryer cylinder,rewinding machine and other felt leading roll.
The paper sheet will formed on cylinder,and dried through the dryer cylinder. Rewinding machine will make the paper sheet rewind the large roll of tissue paper. The large roll of tissue paper can be processed the small roll tissue paper and napkin tissue paper according to the requirement.
Email: wastepapermachine@gmail.com
Leizhan is a professional manufacturer of pulp and paper equipments, provides kinds of pulping and paper machine. If you want to know more detail, welcome to consult us.