Low Cost Copy Paper Making Machine
---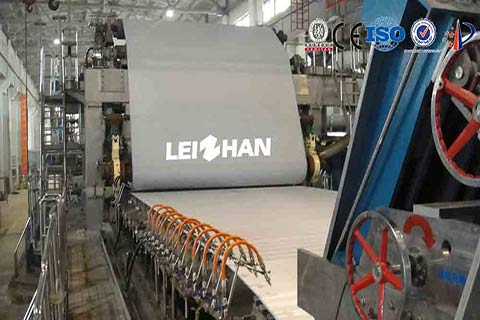 Low cost copy paper making machine, also known as Office Culture Paper Machine and Writing Printing Paper Making Machine, is a kind of Multi-Dryer Culture Paper Manufacturing Machine for making high standard office paper.
Low cost copy paper making machine is suitable for any kinds of raw material: waste paper, virgin wood pulp, waste carton,waste paper with ink spots, waste white bars etc.
Low Cost Copy Paper Making Machine Parameter
Net Paper Width: 1200mm
Paper weight: 70-90g/m²
Prouduction Capacity: 10T/D
Working Speed 80-90m/min
Max. Working Hours/Day: 23
End Paper Dryness: 93%-95%
Main Equipment Of Low Cost Copy Paper Making Machine
Pulping: Hydrapulper
Screening: M.C.Pressure Screen; Vibrating Screen
Cleansing: High Density Cleaner; Low Density Cleaner
Dispersing: Disc Disperser
Refining: Disc Refiner
Headbox
Email: wastepapermachine@gmail.com
Leizhan is a professional manufacturer of pulping & paper making equipments. If you are interested in any of our products, please feel free to contact us for further details.