Pulping Machine Double Disc Refiner For Paper Mill
---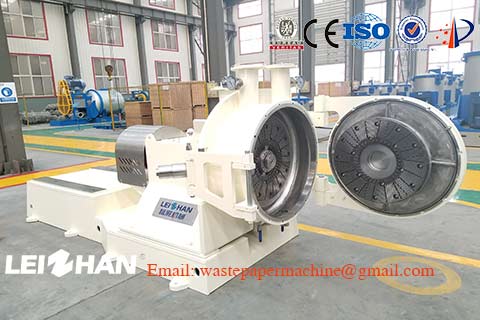 Pulping machine double disc refiner for paper mill is mainly used in the paper making industry for the continuous pulping of bleaching pulp or the even beating of waste paper pulp.
Pulping machine double disc refiner is a new generation of waste paper pulping equipment, which is suitable for 3-6% consistency's chemical pulp, which is an ideal pulping equipment at present.
Features Of Pulping Machine Double Disc Refiner For Paper Mill
1. Novel design, reasonable structure, high yield, high beating quality, etc.
2. low power consumptionm, strong adaptability, easy operation, flexible adjustment, etc.
3. Double grinding zone,high pulping efficiency.
4. High versatility, easy maintenance.
Email: wastepapermachine@gmail.com
Leizhan is a professional manufacturer of pulping & paper making equipments. If you are interested in any of our products, please feel free to contact us for further details.