2640mm A4 Paper Making Machine
---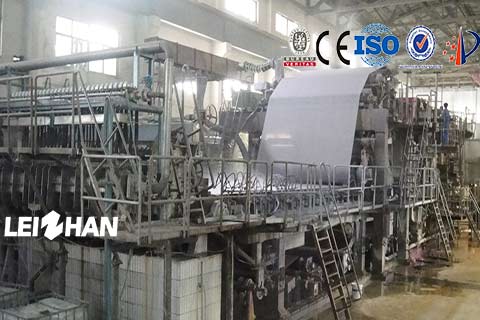 2640mm A4 paper making machine, also known as Office Culture Paper Machine and Writing and Printing Paper Making Machine, is a kind of multifunction culture paper machine for making high grade office paper.
A4 paper is a kind of culture paper, it is an indispensable paper for office. Leizhan provides the set of 2640mm A4 paper making machine include the pulp and paper machine.
2640mm A4 Paper Making Machine Pulping Line
Raw material→Chain Conveyor→Hydrapulper→High Density Cleaner→Coarse Screen→Vibrating Screen→Low Density Cleaner→Mid Consistency Pressure Screen→Light Impurity Separator→Reject Separator→Refining Machine→Inflow Pressure Screen
2640mm A4 Paper Making Process
Headbox(wire section)→Press Section→Drying Section→Driving Section→Foundation Part→High-grade A4 Paper.
Basic Parameter Of 2640mm A4 Paper Making Machine
Main Material: Waste Paper, Waste White Bars, Wood pulp, and Cotton Pulp
Net Paper Width: 2640mm
Weight: 40-100g/m2
Output/day: 80-100T
Working Speed: 260-330m/min
Email: wastepapermachine@gmail.com
Leizhan provides various kinds of paper and pulping making machine. Welcome to contact us for more details.